Proper Golf Swing

There are many aspects of a proper golf swing that need to be addressed in order to make you a well rounded golfer.
There's a saying in golf that goes: "You drive for show, and putt for dough!" There is definite value in that statement, because on the scorecard, a two inch putt counts the same as a 300 yard drive. However, a proper golf swing extends beyond just the drive and putt.
You need to learn how to chip, pitch, draw, fade, and hit shots out of various lies. That is where this page comes in!
On my Golf Swing Tips page, I explained to you all of the key aspects of an effective golf swing from the takeaway to the follow through. Here, we focus on some of the other important aspects of golf that every golfer needs to be able to do in order to lower scores.

No matter how good of a golfer that you are, you are going to encounter trouble at some point on the course. Hopefully, this page will either provide a refresher for some, or will help beginners take their game to the next level.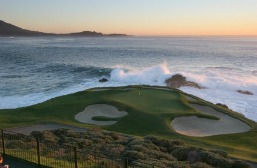 How To Hit A Draw
One of the most important shots that you can add to your game is a draw. This is where your shot bends slightly from right to left. The difference between this and a hook is that a draw is intended, and most importantly, on target. A draw shot can become very important whenever you are facing an obstacle such as a tree or body of water. Every great golfer knows how to pull this shot off and so should you!

To learn how to hit a DRAW, click here
How To Hit A Fade

In addition to the draw, adding a fade shot to your arsenal will help take your game to the next level. The fade shot bend slightly from left to right, helping you avoid trees or other obstacles that are present along the right side of the hole.
Click here to learn how to hit a FADE
Golf Pitching Tips
As you approach the green, mastering the pitch shot will enable you to hit the green with one shot and begin putting. This will enable you to lower your scores! A pitch shot will typically be from anywhere from 20-60 yards so you will need to practice back swings of varying lengths. One of the main things that you will need to alter compared to your normal swing is your stance. Please follow the link to learn how to master this shot:

Bunker Shot

One of the most intimidating shots in golf is the bunker shot. Whether it is beside the green, or along side of a fairway, there are a few simple tips that you need to follow in order to effectively hit out of a sand trap. In either type of sand trap, your stance is very important. Just as crucial is how you orient the club face. Each of these aspects will help you hit the ball effectively out of the sand. If you want to get a leg up on your golfing buddies, then perfect this type of shot!

Click here to learn how to perform a BUNKER SHOT
How To Chip Effectively

Once you are around the green, learning how to chip will allow you to hit it close to the pin and reduce the number of putts that you need to finish. The key to chipping lies in the setup because you want to take a downward swing on the ball. Once you become comfortable with the proper golf swing needed for chipping, you can experiment with different clubs depending on the distance and layout of the green.
Click here to learn HOW TO CHIP
How To Putt

So you have hit it out of the sand, or had a nice chip shot onto the green. Now what? If you want to take your golf game to the next level, you need to know how to putt! Effectively working your way around the green is the key to lowering your score. When a two inch putt counts just as much as any other shot, you can't afford to drop strokes. If you are looking to quickly lower your scores, that becoming an expert around the green should be your first order of business.

Click here to learn HOW TO PUTT
How To Hit From Difficult Lies
Things always aren't as easy as hitting from the middle of the fairway with a perfect lie. Difficult lies are as inevitable as the occasional bogey, so you need to learn how to effectively manage them! Some lies are more difficult than others, but hopefully these quick tips will help you modify your proper golf swing and lead to lower your scores.


Click here for tips regarding DIFFICULT LIES
The Flop Shot

One of the most difficult golf shots to perfect is the flop shot. Flop shots come in handy around the green when you are trying to hit the ball high and land it on the green softly. You need to forget some things that you have learned about the proper golf swing and set up and swing a specific way in order to accomplish this shot.
Click here to learn how to hit a FLOP SHOT
---
Click here to leave PROPER GOLF SWING and return to GOLF FITNESS
Recommended Resource:
The Golf Swing Guru, David Nevogt, has created a simple, and easy to learn method that you will help you cut your scores. It is called the Simple Golf Swing method! It breaks down each aspect of the swing, and provides very detailed pictures and descriptions to help you master each phase. I have every confidence that his proven program will SIGNIFICANTLY improve your game! If you don't believe it, check it out for yourself: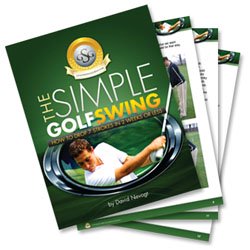 *Looking for another way to further your golf game? Try Mental Training, brought to you by Bright Images. Click here for Powerful Tips & Tools to Achieve your Personal Health & Fitness Goals. Discover professional self improvement programs guaranteed to give you a new stress free attitude, provide you with increased motivation and new visions of you experiencing a Success Golf Game. Build confidence in meeting challenges and turn problems into opportunities. Visit the Bright Images Self Help Center for helpful Tips, Tools and Resources to assist you in reaching all of your personal Self Improvement Goals.