Are You Looking To Improve Your Golf Fitness Level?
Most Golfers Are These Days, But What If You Don't Have A Lot Of Time To Work Out?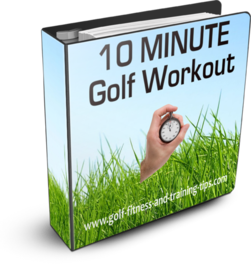 I have an answer for you!
My name is Andrew, and I am a physical therapist with a passion for golf. While I am sure that you wish you could spend over an hour in the gym (a couple days a week), targeting the specific muscles used during the golf swing, sometimes life gets in the way!
I completely understand! As the father of two young children (plus working full time), I know that it is very difficult to find time to devote to yourself when you have more important responsibilities.
Hey, even if you don't have other responsibilities, but you just don't feel like going to the gym, this workout is for you!
That is why I created this FREE report. I have researched extensively to provide you with a handful of specific exercises to help kick start your training habits.
I'm not guaranteeing 300 yard drives, or 10 strokes off of your game in 2 weeks, but what I will guarantee is that you will, at the minimum, feel better about yourself, have increased strength, and improved muscle endurance on the golf course.
The 10 Minute Golf Workout includes:
-5 essential exercises, designed to work multiple muscle groups at once, target key muscles used during the golf swing.
-Step by step directions for how to perform each exercise.
-Equipment recommendations to further your training.
So what are you waiting for?
All you need to do is fill out the form below. Provide me with your name and e-mail address, and I will send you a confirmation e-mail in return. Click on the link contained in the email, and you will then have full access to your FREE 10 Minute Golf Workout report!
It's that easy!
And as an added bonus, you will also be signed up for my Golf Fitness Tips newsletter where I will periodically e-mail you with new exercises, swing tips, research, training aids and more! I will absolutely never give, sell, or rent your name to any 3rd party, and of course, you can unsubscribe at any time.
"But What If I Am Looking For More Extensive Golf Exercise Information?"
Great question!
When I created Golf Fitness And Training Tips, I set out to create one of, if not the, most comprehensive golf fitness resources available.
Here is what my site offers you:
-Core Exercises
-Upper/Lower Body Exercises
-Kettlebells
-Stability Ball Exercises
-Foam Roller Exercises
-BOSU Ball Exercises
-Plyometrics
-Golf Fitness Products
-Golf Swing Research Articles
-Training Aid Reviews
-Golf Swing Tips
-Injury And Rehab Information
-Flexibility Exercises
And much more!
If you can't find what you are looking for on my site, please drop me a line and I'll do the best I can to help you!