About Me

For someone that is providing you with all of this information, you probably would like to know a little about me!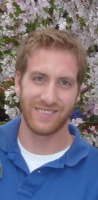 My name is Andrew, and I am a licensed physical therapist who happens to enjoy (and sometimes hate!) the game of golf. I attended Saint Francis University and graduated with my Bachelor of Health Science degree in 2004 and my Doctorate of Physical Therapy degree in 2006. Also, as of July 2012, I am a certified Golf Fitness Specialist through the National Academy of Sports Medicine. UPDATE: As of February 2013, I have passed my CSCS exam and am now a Certified Strength and Conditioning Coach.
I currently work in an outpatient clinic focusing on orthopedics and sports medicine. To be honest, I am not a scratch golfer! I struggle and make many of the same mistakes as everyone else! My intention with this website is not to turn you into a PGA pro. I just want to use some of the knowledge that I have acquired from my profession and through research to simply help you improve your game through exercise and education.
Unfortunately, I came to realize how important fitness and strength training was to improving my golf game after I ended playing competitively in high school. When I was 17 I was 6'4" but only about 175 pounds. I would occasionally go to the gym to workout but I could never consistently get into it. It wasn't until a couple years later, when I filled out to about 215 pounds, and was going to the gym much more frequently, that I saw a significant difference in the distance that I could hit all of the clubs in my bag. If only I realized this a couple years earlier!
Now as a physical therapist, my main task is to treat and prevent injuries. I feel very strongly that a proper golf specific strength training routine will help prevent injuries. In addition to improving fitness, proper golf swing mechanics will also help. That is why I have researched extensively to provide you with appropriate, yet basic, golf swing tips to help correct any faults. My swing tip pages are not intended to take the place of personal face to face instruction, but they are here to give you a good reference and whatever you do with that information is up to you.
So check out my site and I hope you find it helpful!
If you have any questions/concerns/problems with this site, please feel free to contact me.


Click here to return to GOLF FITNESS