Golf Fitness Products
If you have explored this site extensively, you have likely seen many golf fitness products that I have either reviewed or recommended. On this page, you will find practically everything that I have mentioned on this site (and more) in one location!
These are my favorite golf fitness products, ranging from free weights and stability balls, to books and golf swing training aids.
Please check our the store, and check back often because I will be periodically adding more products!
Click here to recommend your own golf fitness product, or read the recommendations of others!
My golf fitness product store is powered by Amazon, the largest internet marketplace for both new and used goods. I purchase products from Amazon all of the time because it is quick, easy, and more often than not, you will find the lowest prices! This is true because not only does Amazon sell products, but various vendors sell their products through the Amazon Marketplace.
You'll notice that the store features quite a few products from SKLZ. Reason is, they make great products! And that is true not just for golf. Their products are all geared towards athletes looking to gain a competitive edge. Their golf lineup ranges from golf club training aids to resistance bands, and everything in between. I highly recommend any product from SKLZ!
Golf Resistance Training
Also, you may have noticed a golf fitness ebook on some of my pages. While I did not author the book, it is written by one of the premier golf fitness experts in the world, Mike Pedersen. Just Google his name and see for yourself!
I actually hesitate to call it just an e-book, because it truly is much more than that. In addition to the Power Golf book you get 4 additional products: Golf Like Tiger ebook, 50 Quick Tips ebook, The Tee Time Diet ebook, and a 30 minute phone consultation with Mike Pedersen himself!
Mike's Power Golf System is a comprehensive conditioning program. It incorporates fitness and strength training exercises as well as swing tips to help cut strokes off of your score. As I have mentioned numerous times on this site, improving your physical fitness level will have far reaching implications for both golf and your general lifestyle. As a physical therapist, it is my job to promote health and wellness, so I know a good product when I see one.
My full review of this product can be found here, but the take away message is that this is a superb product that is worth your hard-earned dollars. It is numerous products wrapped into one, and you will get your money's worth!
And if you don't like it for whatever reason, there is a 60 day money back guarantee.
To learn more about the Power Golf program, please click here: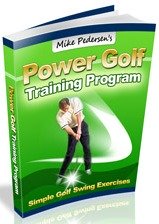 ---
Developed with conjunction with fitness guru, Craig Ballantyne, Chris Lopez CSCS has created the extraordinary Kettlebell Revolution 2.0 program, designed to take kettlebell training to the next level. This program is for all skill levels and ages, so don't worry!
Kettlebells can be intimidating at first, but once mastered, can provide you with an excellent workout!
For a more comprehensive look at this training system, please click here: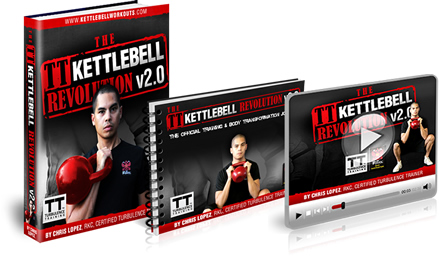 Click here to leave GOLF FITNESS PRODUCTS and return to GOLF FITNESS home
Have A Great Golf Product To Share?
Do you know of a great golf product or training aid to recommend to others? Share it here!