Golf Fitness Program

Learn More About One Of The Most Popular Programs Available

Finding a great golf fitness program can be a challenge! There are many different sites out there that promise 300 yard drives, and significant reductions in your scores. But how do you know if their information is sound, especially if you are not well versed in the ways of fitness???
Well luckily for you, you found this website! Let my knowledge of fitness and exercise be your guide.

In case you have not checked out my About Me page, here is a quick refresher on my background. I am a licensed physical therapist, working in sports medicine and orthopedics. I have played golf for over 15 years, and have conducted extensive research in regards to the golf swing and golf fitness.
When it comes to exercise and fitness, I know what works and what doesn't! On this page I will give you honest feedback on my favorite golf fitness programs.

Mike Pedersen's Power Golf Fitness Program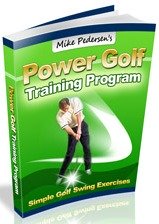 One of the most comprehensive training programs was created by Mike Pedersen, a fitness professional who has specialized in golf for many years. He has written numerous golf fitness articles, and is all over the internet.
The Power Golf Training Program, is a combination of 4 E-books: The Ultimate Golf Fitness Guide, Golf Like Tiger Can, 50 Golf Tips To Use On The Course Right Now, and Tee Time Diet.
By far, the main component is Mike's Ultimate golf Fitness Guide. It is 243 pages full of valuable information ranging from flexibility to various forms of strength training.
The book starts generally, providing information about basic flexibility tests to see if you are ready to undertake a golf fitness program. Next, Mike talks about how muscle imbalances and postural changes can affect your golf swing. This is a very important section of the book that will help you understand exactly which areas you need to work on.
One aspect that I find very helpful in this book, is that it gives you 3 separate training routines, one for beginners, intermediates, and more advanced golfers. While there are some general similarities between the programs, each one certainly builds upon the previous program.
The exercises are well laid out in easy to follow instructions, and there are pictures for each exercise.
One thing that I find missing with his programs is rotator cuff strengthening. I feel very strongly about strengthening these muscles, not only from a power perspective, but from an injury prevention stand point as well. If you are looking for specific rotator cuff exercises, please refer to this page.
In addition to the three routines, he also provides some additional exercises using an exercise ball, medicine balls, and resistance bands. There are also chapters regarding on the course stretches, work/office exercises, and travel exercises.
All in all, I certainly think that Mike Pedersen's Power Golf Program is a worthwhile purchase for anyone looking for some additional information regarding golf fitness. I agree with most of what he says in the book (although I would like to see some specific rotator cuff exercises thrown in).
Plus, the additional e-books that are thrown in with this purchase are very beneficial. The nutrition book is very comprehensive, an actually, it one of the best golf nutrition resources that I have found. The Golf Like Tiger Can book focuses on course management skills and essentials that every golfer needs to be aware of in order to more effectively play each hole. Finally, the 50 Golf Tips book is exactly what it sounds like, quick tips regarding the swing, swing drills, and how to approach different types of shots, just to name a few.
If you are interested in purchasing the Power Golf Fitness Program, please click here.

---
Return to GOLF TRAINING AID REVIEWS

---
Click here to leave GOLF FITNESS PROGRAM and return to GOLF FITNESS home page