Putting Drills To Help Lower Scores

Finding and practicing some effective putting drills can be one of the best ways to lower your scores. Cutting a few strokes here and there on the greens will quickly add up, and will lower your scores to what once was uncharted territory.
To someone who is unfamiliar with golf, learning how to putt would seem like one of the easiest aspects to the game. However, those who play golf will completely disagree!
There are few things more frustrating than getting to the green with some great shots, and then watching a two foot putt rim out. The purpose of these putting drills is for you to gain more confidence on the green through repetition and practice. When a 1 foot putt counts the same on the scorecard as a 300 yard drive, you can't afford to overlook learning how to putt!
This page will be changing frequently, as I continue to research and bring you more great tips. So please check in again for more golf swing advice!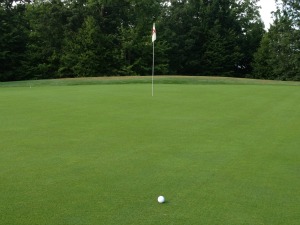 One Hand Putting Drill

If you are looking to improve control and feel of the putter, simply try putting with one hand. The hand that you choose is up to personal preference, but once you choose, grip the putter and practice hitting shots from various distances.
Work on control, and a smooth putting stroke. You are looking to hit the ball softly, so it may take some practice in order to perfect it. You want to swing primarily with your shoulder, but a small amount of wrist motion will help with control.
Bullseye
Imagine that there are two circles surrounding the hole, one smaller inner circle and one larger outer circle. Take a few golf balls and from a set location, hit all five and try to get them all to stop at least inside the largest circle. Then, start over from the same location, but try to get all of the balls in the smaller circle. Finally, target the hole and try to get them in or as close to the hole as possible. Repeat from various locations around the hole.
Alignment Check
A easy putting drill to make sure that your putter is following a straight plane is to place two clubs on the green parallel to each other and about a putter and a half width apart. Draw your club back slowly and then follow through checking to see if the club head remains between the shafts of the two clubs on the ground.Another way to accomplish this is to place only one club on the ground, parallel to your stance, and then line your putter up along that same plane. Perform your putting stroke, making sure that your putter stays aligned with the shaft of the club.
Confidence Builders
Missing short putts is one way to quickly lose confidence after a few good shots in a row. And, as mentioned above, one of the easiest ways to lower to overall scores is to improve your ability to two-putt or less. That is exactly the intention of this putting drill.

Start with a handful of balls and place them all around the hole, maybe 1 to 3 feet away from the target. Sink them, and then start again but a foot or so further away. Sink those and continue to move further way, steadily building confidence with each round!
This is a great putting drill for beginners who are just learning how to putt, or for those who are looking for more confidence with shorter putts.
Eyes Closed
One thing that many people lack is touch around the green. Developing this feel is something that takes a lot of practice. A helpful golf putting drill to help improve your touch is to try putting with your eyes closed.
Start close to the hole and sink a few putts with your eyes open so you have your distance down pat. Then, from the same distance, try to replicate your results with your eyes closed. You lose your visual reference, so it makes proper ball striking that much more difficult. Keep practicing from varying lengths and try to improve your feel around the green!
Start Strong/End Strong
One of the easiest, and possibly most effective, thing that you can do to build confidence before starting your round is drain some putts on the practice green. Start close to the hole, and make sure that you can sink the vast majority of your first putts. Steadily move away further from the hole to continue your practice. However, before you head to the first tee, move closer to the hole again and sink some easy putts so that you can carry over some confidence to your round.
Putt And Hold
One common mistake that many golfers make is that their body moves too much during and after the putt. The putting stroke itself should come primarily from your shoulders, while the rest of your body remains still. Once you hit the ball, hold your finishing position for a few seconds. In that held position, you can re-check your alignment and make sure that the club face of the putter is still facing the target.
---
---
Golf Fitness Home Page > Free Golf Training main > Putting Drills